The Covid-19 Pandemic has forced many businesses, particularly in the Boston area where we're located, to move their operations outside if they are able to.  Many restaurants have created outdoor seating to accomodate as many guests as possible.  Acquiring patio furniture for outside seating has been a big part of this outdoor movement.  In the near future, all of this patio furniture will need to be brought inside for the winter months.  This is where patio furniture storage comes into play.
You as a bussiness might be lucky enough to have a set-up where you can maintain your patio furniture outdoors year round with some sort of covering/heating system.  Unfortunately for many, the weather in the northeast is just too unpredictable and cold to where they'll need to get that furniture out of the elements and covered before it becomes ruined and unusable for the upcoming warm weather months.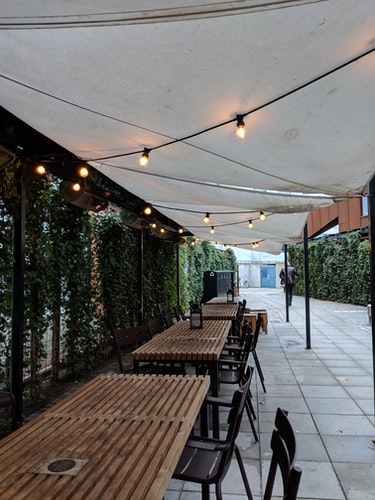 Make Storage Plans Early
It's never too early to begin thinking about your patio furniture storage plans.  The sooner you are able to button up the details of where your outdoor furniture will go when the weather gets cold, the sooner your can temporarily put it out of your mind and focus on more immediate business needs.  Making storage plans in a hurry when everyone else is trying to do the same thing can get hectic and stressful.  It can also lead to you choosing a storage option out of desperation that may not have been the most efficient for your business.
Use a Full-Service Moving & Storage Company
Most moving companies will offer you full-service moving and storage.  This means the movers will come out to your restaurant, take away the patio furniture storage, and keep it in their warehouse until you are ready for the items to return once the weather gets nice again in the spring.  Moving items to storage can be stressful enough without having to worry about how you are going to get the items there and back.  Save yourself the hassle of borrowing a friends truck or renting one, and have 1 company handle this whole process for you.
Avoid Crowding Your Current Space
The biggest bonus of patio furniture storage is not having to find space for some or all of these tables and chairs within your existing square footage.  Your basement or storage room is probably already crowded enough without having to play tetris to fit more stuff in it and create stress for you and your staff.  Free up the space in your business for more productive activities and send that temporarily useless furniture to storage.  Check out our Commercial Storage page for more details on how it works.
We hope you'll consider patio furniture storage when the time comes to move the outdoor seating inside from the elements.  If you are interested in a moving or storage estimate from out team here at Your Move, just will out our Moving Request Form and we'll be happy to assist you!